We're bringing Charis to you.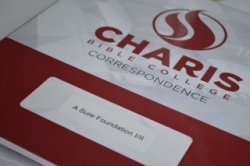 Can't attend Charis on campus? No problem! We'll bring Charis to you.
The Correspondence Program is now available within Canada. Through Distance Learning, you can complete your entire first year at home, on your schedule, and at your own pace.
There are many advantages to taking the Correspondence Program through our Canadian office. There is no hassle of exchange rates and added shipping fees because all our prices are in Canadian dollars and include the cost of shipping. You'll also be able to mail your exams to Charis Toronto instead of the USA, which will save you save postage.
If you'd like to learn, visit www.charisbiblecollege.ca/distance-learning.
---